Ek Balam Archaeological Site
Ek Balam is a beautiful Archaeological Site in the Yucatan Peninsula, but these Mayan Ruins are pretty much unknown for tourists.
Ek Balam is really close to Valladolid and it is also on the way to Rio Lagartos, a magical place and a wild life reserve.
Ek Balam deserves a daytrip visit so you can get to know the place and you can combine the visit to Ek Balam ruins with a visit to Valladolid or a visit to Rio Lagartos, both amazing places in the Yucatan Peninsula.
But before continuing with what you could do in a daytrip to Ek Balam, let's share some info about the Mayan Site itself.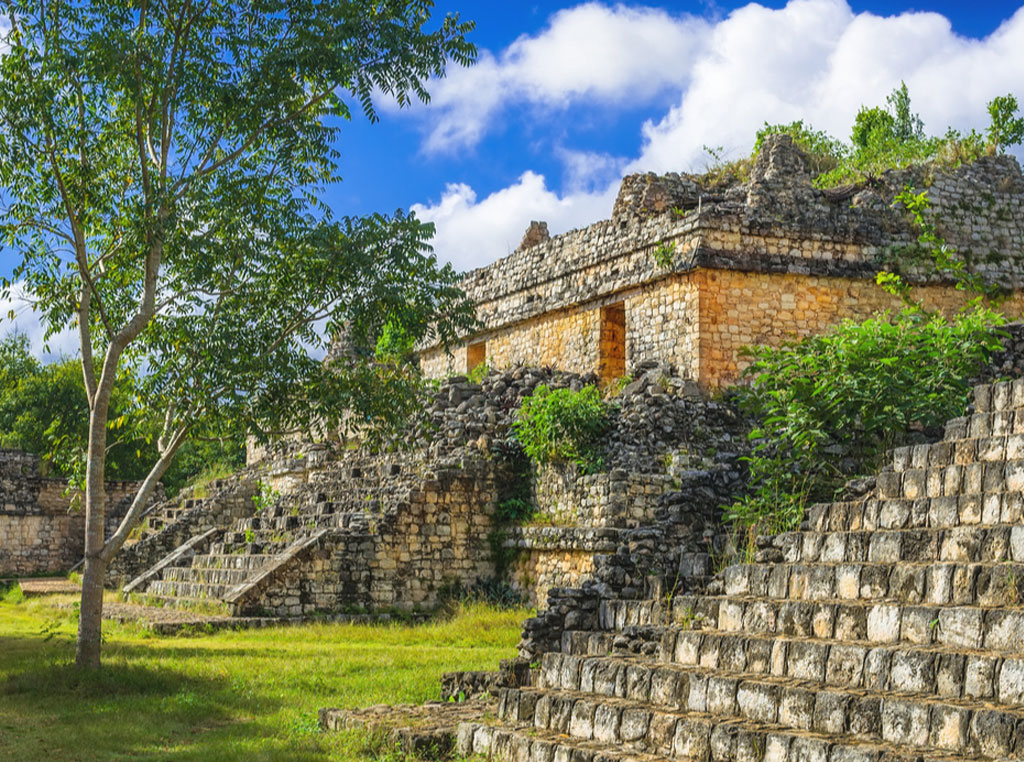 About Ek Balam
Ek Balam is a name in the Yucatecan Mayan language, formed by the words ek ', which means black, and in some translations it means "bright star"; and balam, which means "jaguar". It can then be translated as "dark-jaguar or black-jaguar". However, some Maya speakers in the region also translate it as "jaguar-star." According to the narration of Ek 'Balam, written in 1579 by the designated Juan Gutiérrez Picón, it is mentioned that the name of the site comes from a great man called Ek Balam or Coch Cal Balam, who founded and ruled it for 40 years. However, archaeological evidence has not provided us with any proof of the existence of this character. Eventhoug, the emblem glyph found in stone monuments called The Hieroglyphic Serpents, is actually mentioned as the name of the site in the narration.
Ek Balam Pictures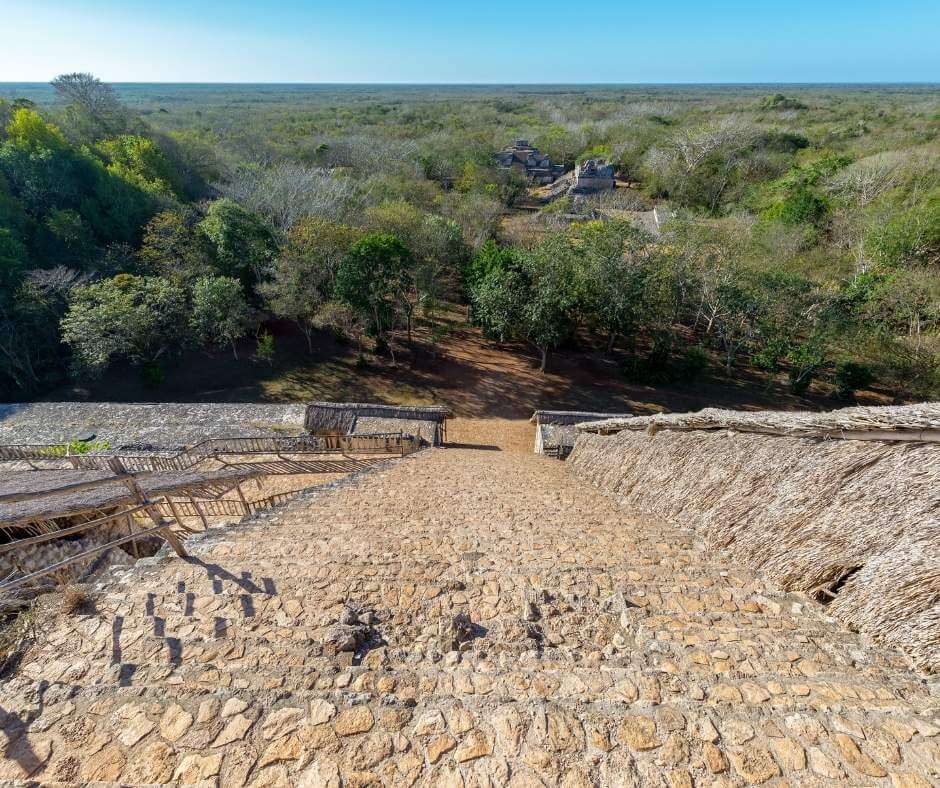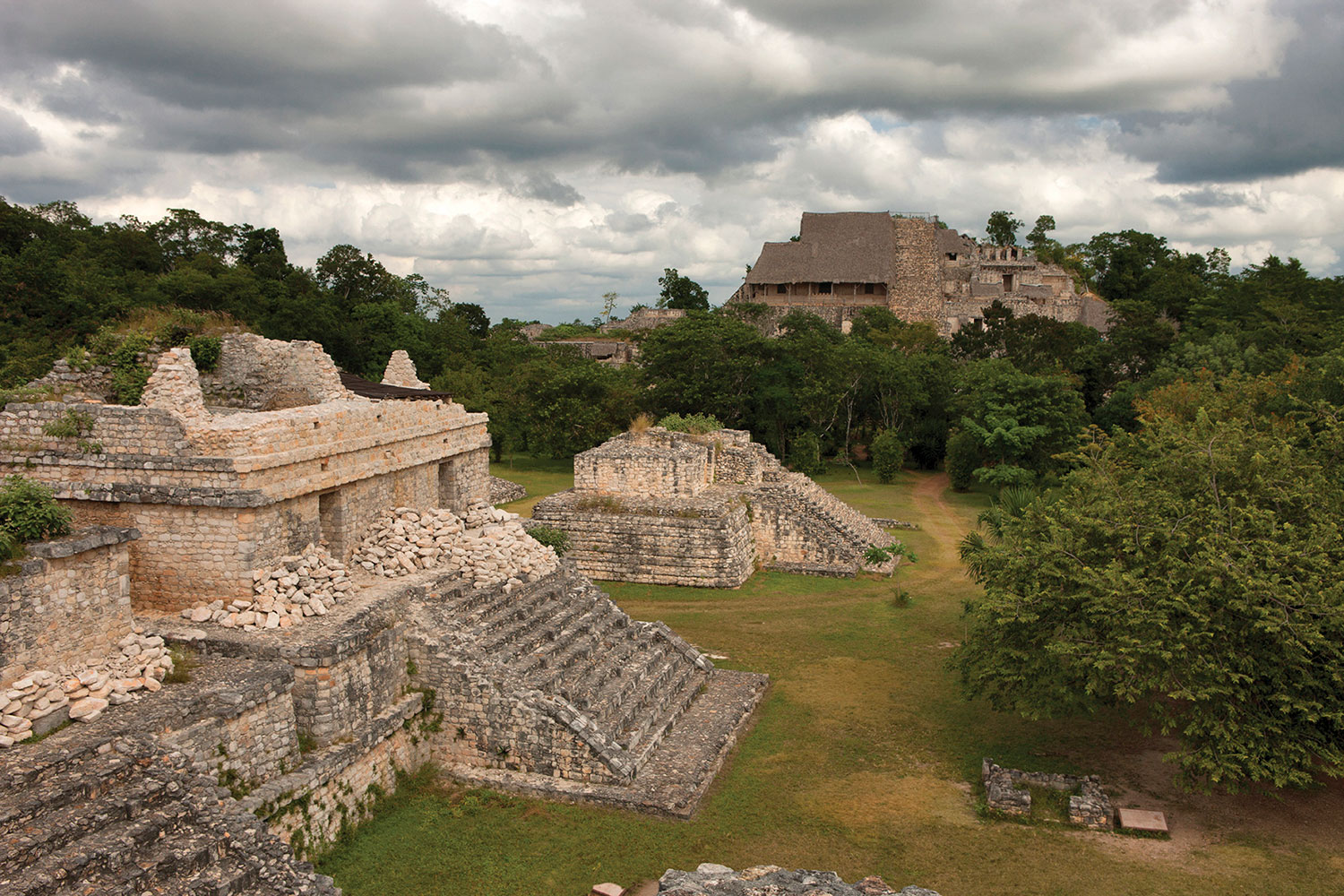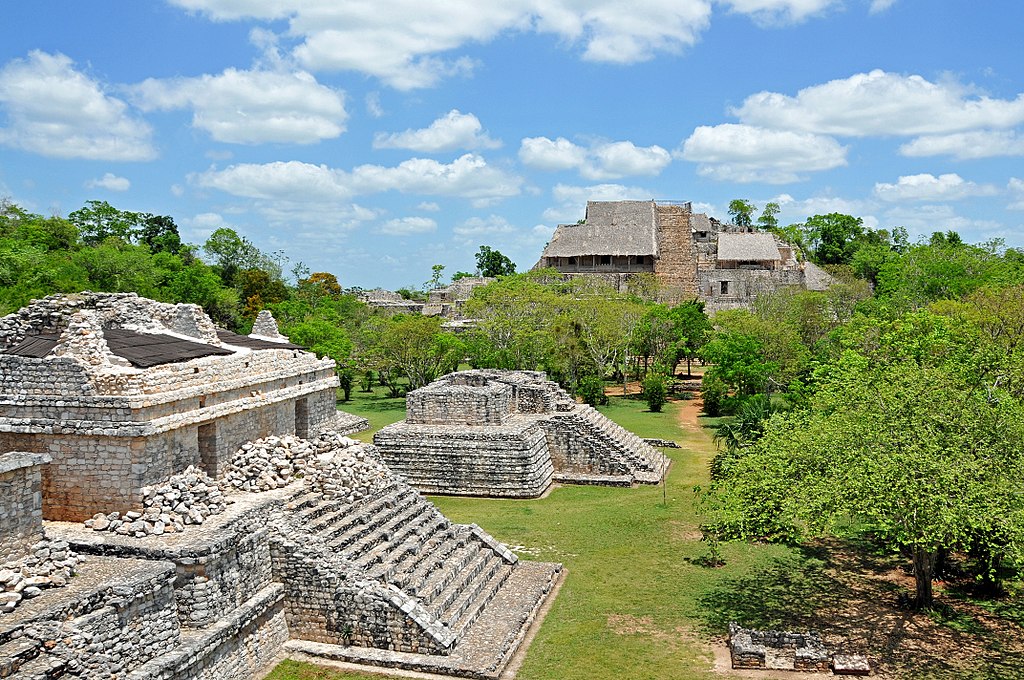 History of Ek Balam
Ek Balam, with its majestic constructions hidden among large trees, is a site unlike any other Archaeological site in the area.
Its history begins approximately from the year 300 B.C., until the arrival of the Spaniards. It was the capital of the Tah empire, to which the people of the eastern part of the state paid tribute, including part of the coast, as evidenced by shell offerings that have been found. It covered about 12 km2, which included a sacred central space of a little more than 1 km2 where the elite resided, protected and delimited by 3 walls. These had 5 entrances, where an equal number of pre-Hispanic roads or sacbes (sak bé oob) led to.
Structure of Ek Balam
It was a very rich capital, with a population of 12 to 18 thousand inhabitants in its main nucleus. It has 45 structures and is surrounded by two concentric stone walls, and another one that joins the central buildings. These walls were for defensive purposes and to control access. It has a ball game and a very beautiful arch where a sacbé (sacred road), which in ancient times connected the Mayan kingdoms, led to; there are also stelae and the so-called hieroglyphic serpents, monuments beautifully carved in stone blocks. The structures have various architectural styles, but there are details that make them unique, such as images with wings that resemble angels.
Ek Balam Archaeological Site is open from Monday to Sunday between 8 am and 5 pm. The ticket office closes at 4 pm.
Ek Balam's Cultural importance
Ek Balam (Jaguar Star) is a Mayan city that had its maximum development during the Late / Terminal Classic (600-850 / 900 AD) and which was possibly the seat of the kingdom of "Tlalol". The first known king of Ek´Balam is Ukit Kan Le´t Tok (the father of the four flint fronts) who was the builder of most of the sumptuous palace that we now know as the Acropolis and many other works. Likewise, it was a promoter of technical and cultural advances, as well as architectural and decorative richness, the best example of which is Structure 35 Sub, located inside the Acropolis and known as Sak Xok Nahh (white house of reading), which served as a tomb for Ukit Kan Le´t Tok, who was buried with a rich offering made up of more than 7,000 pieces such as ceramic vessels, shell objects, snail and tumbaga.
How to get to Ek Balam
Ek Balam is an easy ride from Cancun or the Riviera Maya, it is about 170 km from Cancun, 157 km from Playa del Carmen, 127 km from Tulum, 27 km from Valladolid Yucatan, and 175 km from Merida. If you are driving down to Ek Balam signs are really clear and it is easy and safe to get to it.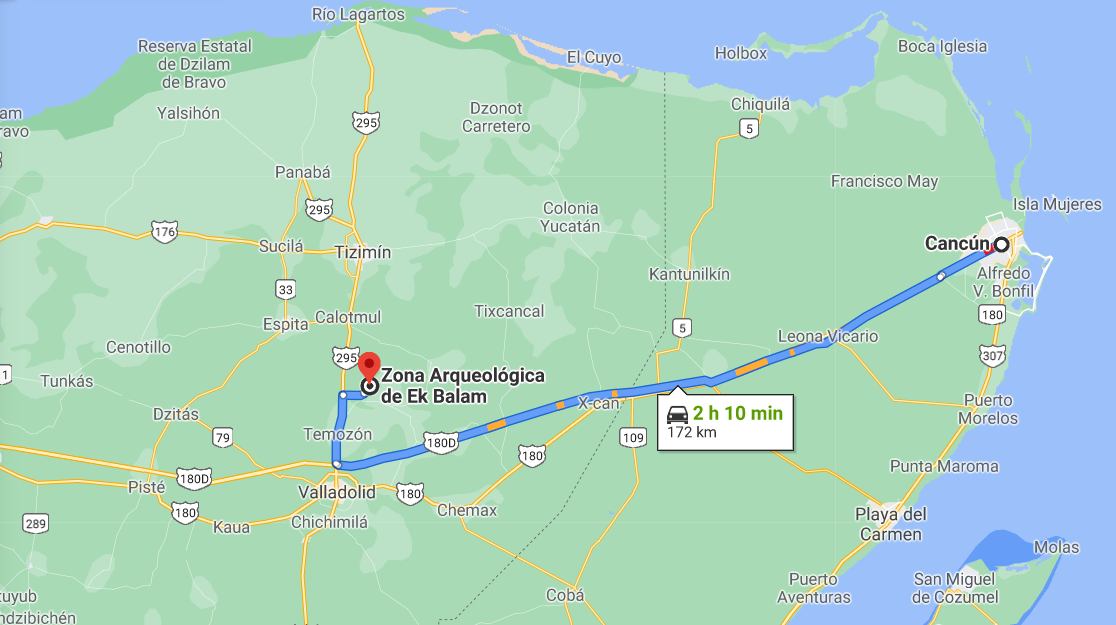 Ek Balam Tour
Ek Balam is also often offered as a tour and you can find multiple offers online which will include Ek Balam with Valladolid or with Río Lagartos.