Kukulkan Nights
Every night the Great Pyramid of El Castillo shines through the night after the sun goes down. It is an exciting show full of history and beautiful light effects. The Ancient Mayan complex comes to life with dramatic lights and images and sounds.
People really like to watch a projected light shadow on the temples there. It is impossible not to be amazed by those lighting effects on the buildings.
For an amazing show many of the ruins are floodlit in color changing lights and before the show starts, people are free to walk around the grounds within certain areas to take nice pictures. You can stand or sit on the ground to watch the show when it starts. Emotions raised during the show recounts tales of love, war, life and death of one of the most sophisticated civilizations ever established.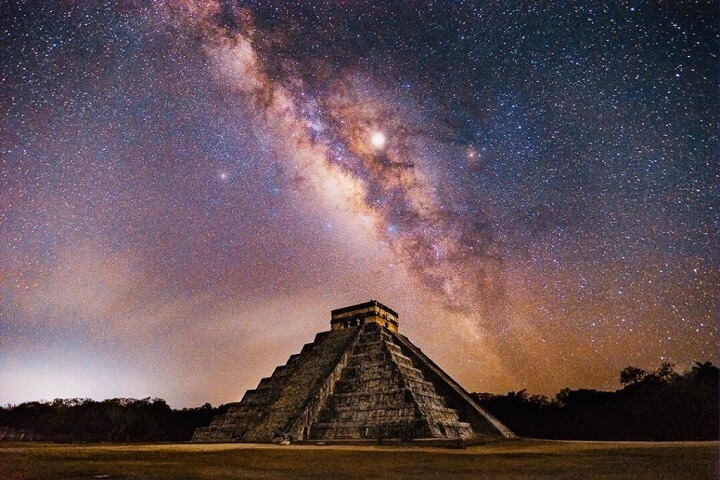 The actual light and sound show itself lasts 30 minutes and it is mostly projected in El Castillo which is the central and the main attraction of the Chichen Itza site. During the show people enjoy learning about Mayan theories and how impressive the Mayan civilization was. The presentation is in Spanish but even if you can't speak Spanish, it is easy to get the main idea of it.
Being at Chichen Itza during the night will become an exceptional experience, it's like being in a completely different world. Amaze yourself with the Mayan world, enjoy the cultural environment, and fill yourself with the Mayan mysticism.
The light and sound show is a unique experience for all audiences and it offers a different aspect about Mayan culture. If you visit Chichen Itza, don't miss the show, it will make you spellbound.
Chichen Itza night show entrance
Enjoy one of the most iconic night shows in the Yucatan Peninsula by visiting Chichen Itza at night. There aren't online tickets available, you must go to Chichen Itza's ticket office and get your entrance there, tickets are available daily from 3:00 pm in case you want to purchase them in advance.
General Admission $600 MXN
Open from Tuesday to Sunday.