The cenotes are underground caves that contain deep waters, created where a cave ceiling has collapsed. Cenotes were the Mayan civilization's only source of water in the jungle and are considered sacred by the Mayan people. The Mayans perceived these natural pools as an entrance to their "underworld" or "Xibalba" where their gods still exist and their spirits live after death.
Cenotes come in all shapes and sizes; cave, semi-open, and open cenotes. The Yucatan Peninsula is full of breathtaking cenotes. The most impressive thing about cenotes is that you can find different tones of blue in their waters, as well as a variety of depths, but most of them are really deep that's what characterizes them.
Yucatan is very well known for its large variety of cenotes, there are 7,000 cenotes in Yucatan, and only 142 are available to visit, which means that 98% of the Yucatan cenotes are still unexplored. You can find beautiful open cenotes with nice vegetation around them, but also impressive caverns with the clearest water you've seen.
Cenote Ik Kil
After a Chichen Itza tour, this is the most wanted cenote, it is located just a few minutes away from the World wonder. Ik kil offers impressive views, refreshing waters, and a great family atmosphere.
The water level of cenote Ik Kil is about 30 meters (90 feet) lower than the surface. The walls of cenote Ik Kil go straight down to the bottom of the cenote at 50 meter (150 feet) below the water level, which makes this sinkhole 80 meters (240 feet) deep. Check out this post to know more about this cenote.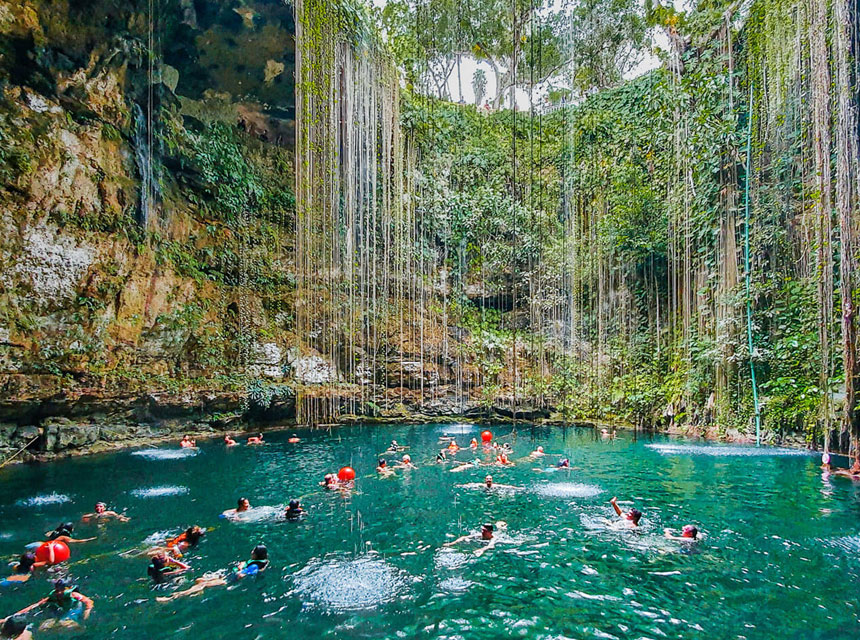 Cenote Suytun
Everybody wants to go to Cenote Suytun due to its incredible thin stone walkway stretching out into a perfectly turquoise pool. Suytun gets its name due to this famous pathway; Suytun means "stone center". This cenote goes as deep as 5 meters at its deepest point.
Located in the direction to Tikuch, 9 km (5.5 mi) from Valladolid, it is the most demanded stop when going to Chichen Itza's ruins.
Cenote Zaci
This cenote is probably Valladolid's icon, it is literally in the middle of the city. It can be reached in 10 minutes by feet from the main square. This is a huge cenote with fantastic vegetation and deep waters to swim.
Cenote Zaci is a unique semi-open cenote with a 45 meter (147 feet) diameter and a 40 meter (130 feet) depth. From its ceiling, as water filtrates from the surface, mineral residues form stalactites that make the cave much more magical.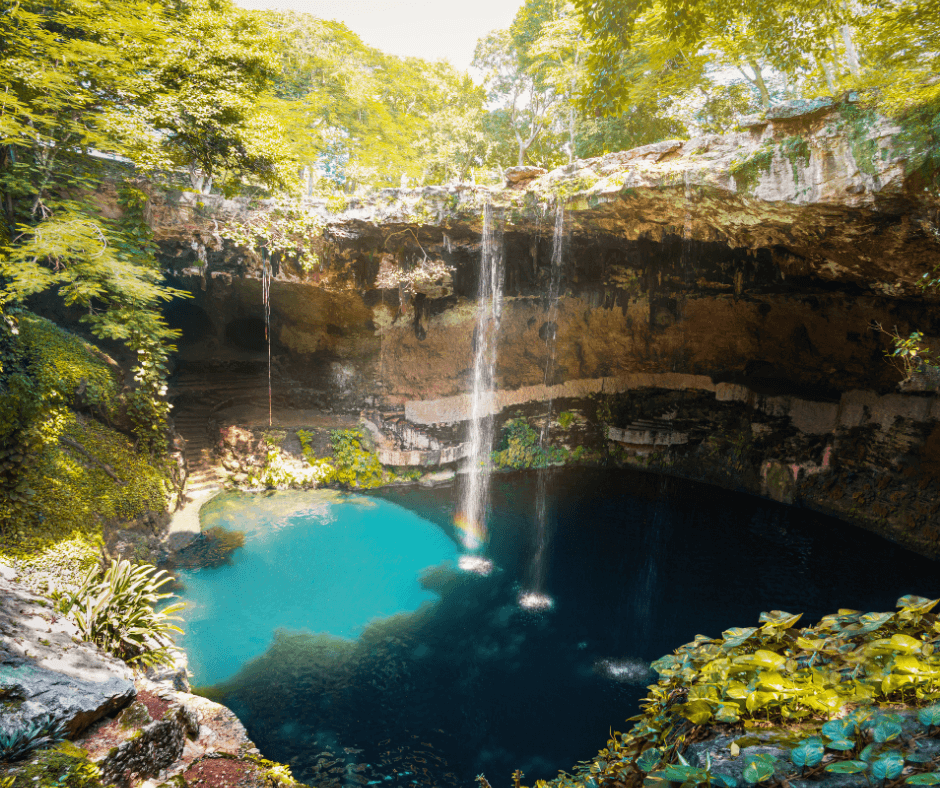 Cenote Samula
It is a beautiful underground cavern that without a doubt will impress you. Its turquoise blue waters are illuminated by a hole in the upper part of the cavern.
Cenote Samula is located 15 minutes away from Valladolid. Located on a finca, you can take the highway Merida-Valladolid and get to the town of Dzitnup. Just on the way to Cenote X'keken.
Something that makes Cenote Samula stand out are the roots that hang from the open ceiling until they gently touch the cool waters, making it seem as a cascade.
Other activities like snorkeling are allowed and encouraged at this and other cenotes.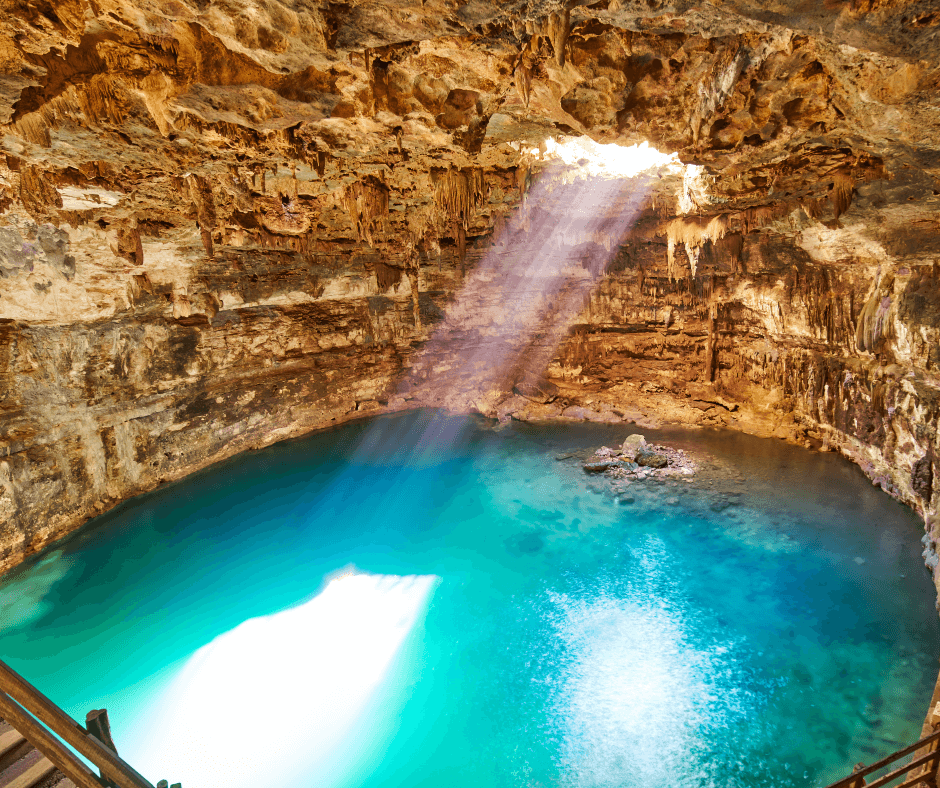 Cenote Xkeken
This cenote is an unbelievable place surrounded by fantastic stalagmites and stalactites.
It is located just 10 kilometers (6.2 miles) south of Valladolid. Compared to other cenotes, Xkeken is quite small, but full of mystic vibes. A perfect site to explore and take great pictures. The entire cavern measures only 30 x 20 meters (98 x 65 feet). The water level itself is only 20 meters (65 feet) deep at its deepest point, and the walls that surround this cave are filled with some beautiful stalactite and stalagmite formations.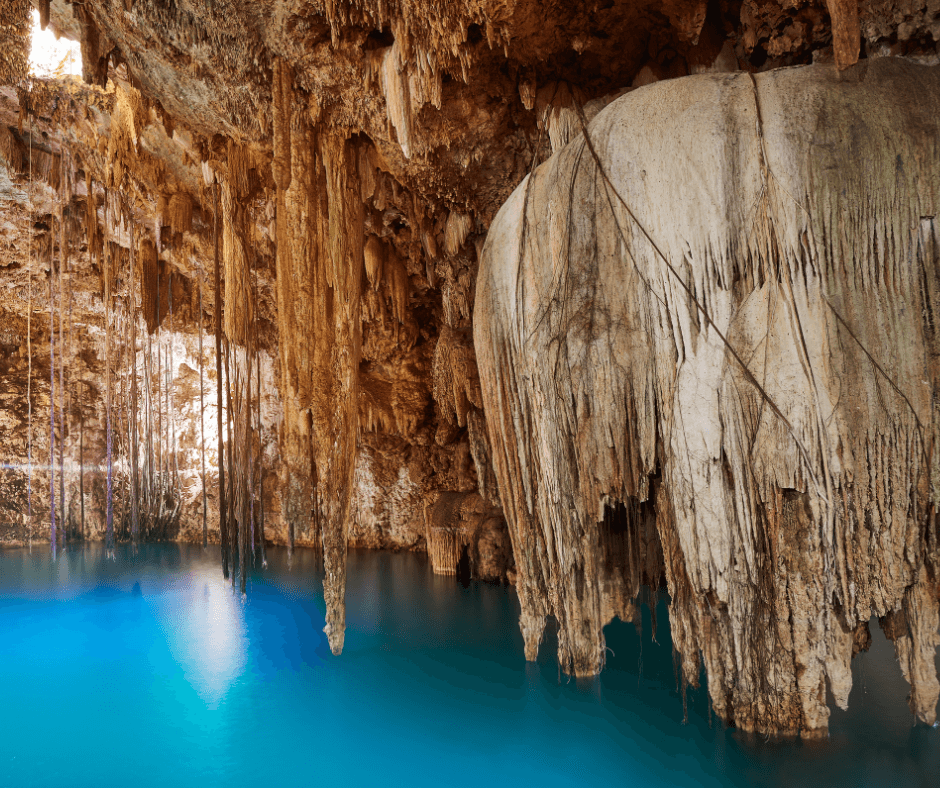 Cenote Maya
Cenote Maya is one of the largest cenotes in the Yucatan Peninsula, this huge natural pool is famous for its exciting Mayan experience that combines with your adventurous side. Perfect place to swim and learn about the Mayan culture.
With 17 meters (55 feet) of depth, this semi-open cenote maintains its mystical essence and encourages visitors to immerse themselves into the Mayan culture. Ceremonies and Mayan rituals are still being held in Cenote Maya.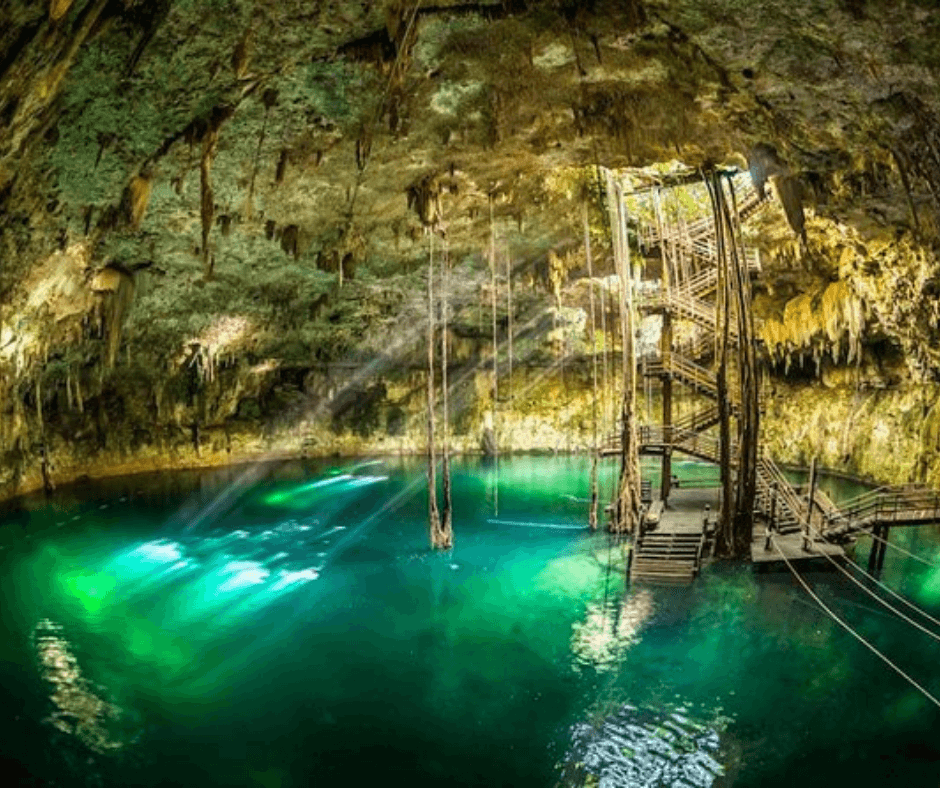 Xlacah Cenote
This cenote is famous for its proximity to the Dzibilchaltún Archaeological site, which makes it perfect for a day trip. This natural pool is popular due to its crystalline waters that are covered with lilies floating on the surface.
Compared to other sinkholes this one is a small open cenote with fantastic vegetation. On a deviation from the Merida-Progreso highway, you can find Xlacah (Old Town), an open cenote of 100 meters (328 feet) wide with a depth that starts by 1 meter (3.2 feet) and goes up to 45 meters (147.6 feet). On its deepest part, you can see a dark cave opening, which its interior is unknown. Artifacts found in this cenote, like vessels, carved bones and wooden objects have helped the archaeologists to obtain very valuable information about the ancient Mayans that habited the area.