The Tzompantli of Chichen is dedicated to the dead, and can be found in different Mayan Archaeological sites. This one is one of the oldest Tzompantli found ever. Habitants of Chichen Itza would gather long wooden beams in which they would hang their enemies' heads. Archaeologists have found buried figures of Chaac Mool in the Tzompantli of Chichen Itza, along skull offerings and a broken ring from the Ball Game court.
The first and most prominent example is the Hueyi Tzompantli (Great Skull-rack) located in the Aztec capital of Tenochtitlan and described by the early conquistadors. There were at least five more skull racks in Tenochtitlan but by all accounts they were much smaller.
A "T" shaped structure holds skull decorated panels. On the sides you can find skull embossments. In total, over 500 bas-relief skulls have been found on the walls.
The Tzompantli of Chichen Itza is a great rectangular platform of 60 meters (197 feet) ong by 12 meters (39 feet) wide. It consists of a very small slope at the bottom, a central band decorated with skulls running in three horizontal rows, and at the top, a slightly tapered band with another row of skulls.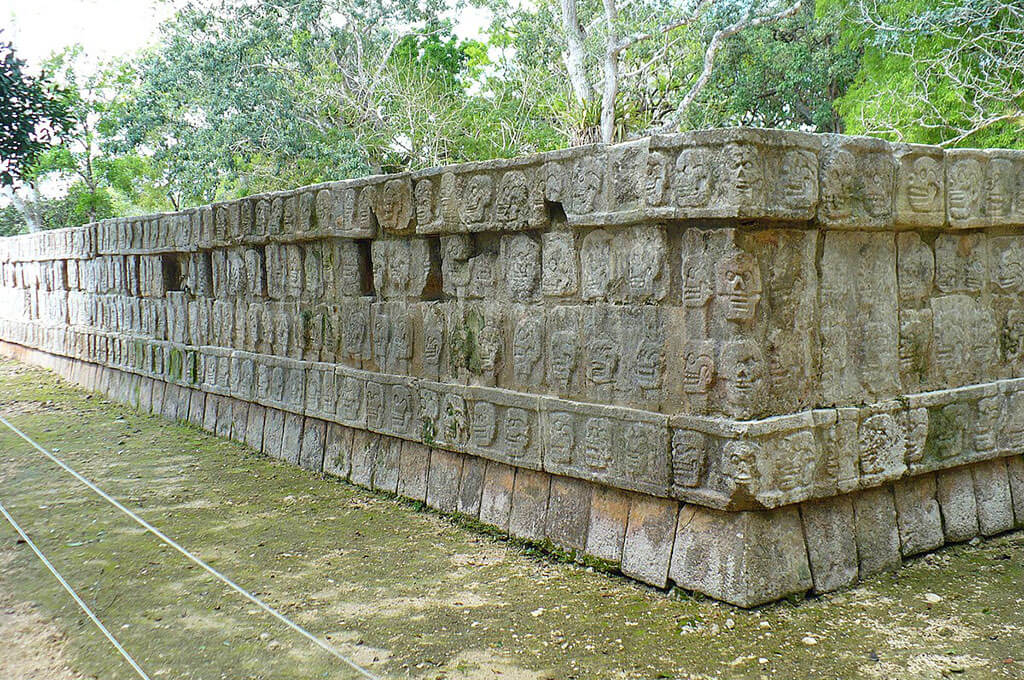 The structure is a large platform whose most notable details is the collocation of the skulls in the bas-relief decoration which gives the structure its name: The Platform of the Skulls. The base is sustained by three tableaux decorated with skulls and divided by mouldings.
This is the monument that gives the clearest testimony to the practice of human sacrifice, carried out for religious-military ends, by the rulers of Chichen Itza.
The platform walls of the Tzompantli have carved beautiful reliefs of four different subjects. The primary subject is the skull rack itself; others show a scene with a human sacrifice; eagles eating all human hearts; and skeletonized warriors with arrows and shields.