Chichen Itza Cenote
The Cenote is a naturally formed open well whose diameter from north to south is 165 feet, and from east to west, 200 feet. As part of the cult offered to the water god the pre-Hispanic Maya made ceremonial offerings, throwing into the well many precious objects. Later, they introduced the practice of making human sacrifices. The victims were warriors, children and maidens thrown to the bottom of the cenote.
To one side of the south bank of the well they built some platforms on two levels, which perhaps were used as seats for those who witnessed the ceremonies. Beside this one can see the ruins of a building that was adapted into a steam bath or temazcal, where it is supposed that the victims were purified. Placed against this building is another platform that hangs over the edge of the cenote, from which the offerings would have been made.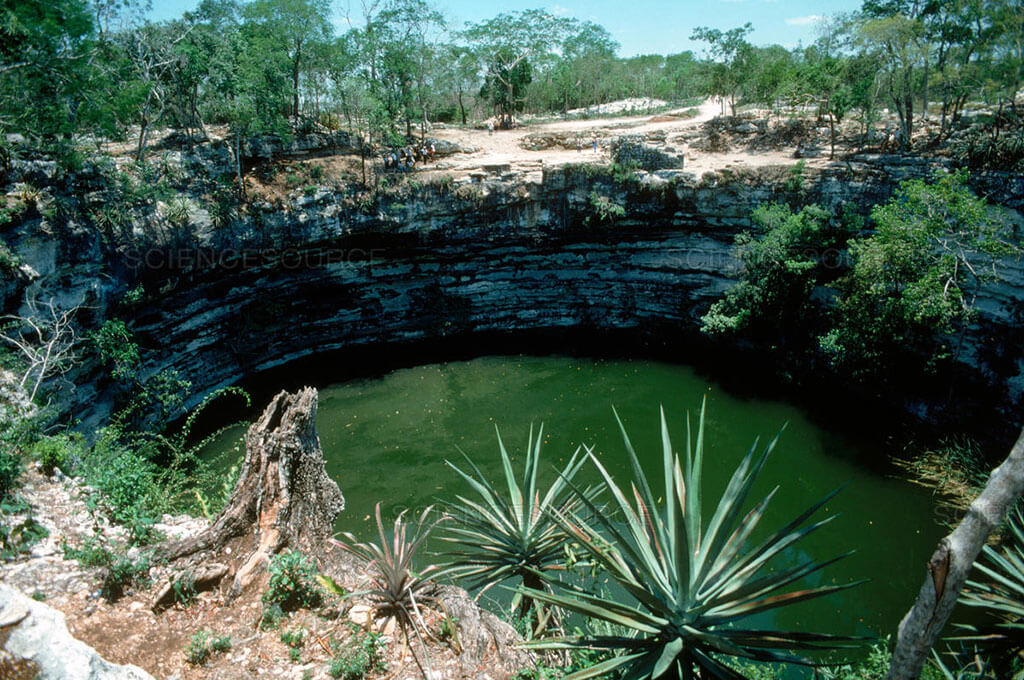 Compared to other cenotes in the route of the cenotes, this one is not suit for swimming. It is characterized by having a lot of vegetation underwater.
The Sacred Cenote still holds unbelievable stories; in 1998 it became a Patrimony of Humanity by UNESCO. And even if the Pyramid of Kukulkan is the most famous building in the site, it is connected by a 300 m (0.18 mi) road.
The Sacred Cenote has been through different restorations throughout the years. The first interventions were led by Edward H. Thompson, then the U.S. consul in Progreso, who was financed by Harvard University's Peabody Museum and private collectors from the Boston area. As a result, in 1904, the US took many jade and gold pieces from the site and took them out of the country illegally. It wasn't until 1914, when the violence of the Mexican Revolution unintentionally put an end to the looting of Chichén Itzá.
To this day, over 200 bodies, jewels, ceramics and gold pieces have been found as part of the archaeological findings in the cenote. The Sacred Cenote is one of the cenotes that has held the most tributes and sacrifices.