The Venus Platform or Temple of Venus measures 25 meters (82 feet) on each side, with 4 stars on each side with square-shaped balustrades, in which the snake's head is projected.
This is a square platform with stairways on each side. On the raised panels there are bas-reliefs of the planet Venus in the form of a "knot" of years, beside a half flower with asps on the petals, and the shape of the plaited mat (pop in Maya) as the symbol of power. In the recessed space Venus is depicted with jaguar claws emerging from the jaws of a plumed serpent.
The platform was originally painted in ochre, blue, red, green, and black. An offering, consisting of a skull of a decapitated man, was found in the stairway on east.
The function of this building was probably as podiums for rites, ceremonies or dances.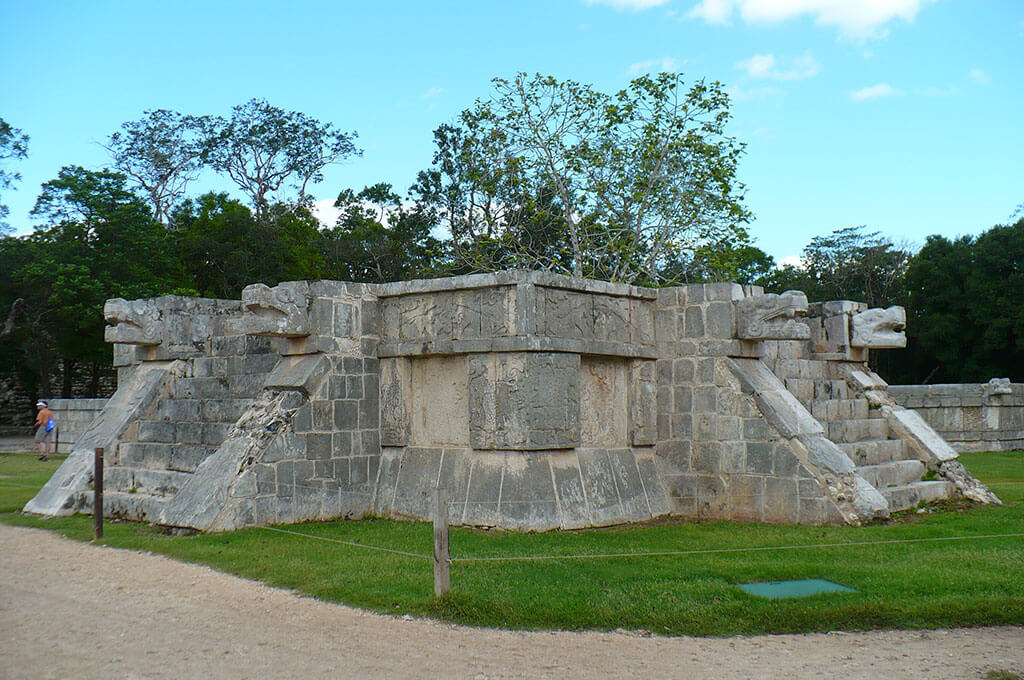 You can still notice red, blue and yellow left-over paint in the stone bas-reliefs that decorated the "Morning Star", one of Kukulkan Quetzalcoatl's representations, and one of the most admired ones by the prehispanic cultures.
The base is composed of a slope, a vertical wall with projecting panels that leave a sunken space and a cornice board as a finishing touch; the total height of the base is 4 meters (13 feet). On the cornice board, there is a feathered serpent with fish among its undulations whose head protrudes from the cube of the stair arch.
The Temple of Venus at Chichén Itzá is located in the Great Plaza in front of the main side of the Pyramid of Kukulkán, where the serpent heads are located, and on the side of the Temple of the Eagles and the Jaguars.